Irrigation Installation & Maintenance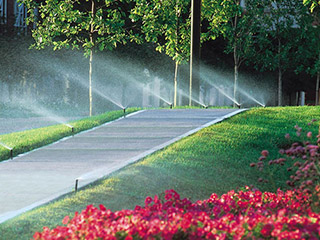 Any landscape design and installation requires the proper foundation, and an irrigation system is beneficial to include in the planning process. Given the excavation needed for the installation of your sprinkler system, this step is up front and center. There are very types of irrigation systems, and our custom quoting option allows you to decide which route is the best for your property. These can include:


Sprinkler systems – emulate the effect of natural rainfall, a system of pressure-regulated spray heads and rotors distribute water

Can cover large areas with uniform water distribution
Systems can be easily mechanized and automated

Drip irrigation – through a network of valves, tubing and emitters, this precise irrigation method has proven to reduce water and fertilizer usage by delivering or "dripping" water slowly directly to the intended area


This can be installed in both new and existing landscapes
Can be more than 90% efficient when it comes to plants using the water emitted to them

Proper maintenance of your irrigation system is one of the most effective ways to reduce wasted water, reduce pollution from run-off and over-irrigation, and improve plant health by applying the correct amount of water. At a minimum, the system should be checked twice annually, at the beginning and end of the watering season. Examples of system damage and problems for a sprinkler system include, but are not limited to:


Broken or missing heads
Clogged nozzles
Seal leaks
Pressure problems

Call AK Lawn Care at 734-439-3063 to discuss all your irrigation needs and schedule your free estimate!