Landscaping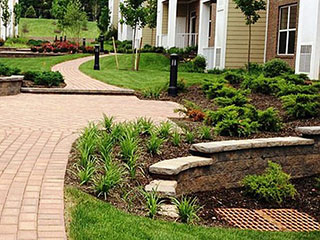 If you're thinking about upgrading your property's aesthetics and functionality, install a well-planned landscaping in your backyard. By installing amenities and features like outdoor kitchen, patio, gazebo, retaining wall, walkway, themed gardens, and the like, you can be sure that you'll enjoy your outdoors better. Such improvements will make previously idle spots more functional, livable, and eye-catching, hence making every dollar you spent truly worth it.

But make sure that you hire skilled and experienced people for the job. By hiring a licensed company like us at AK Lawn Care, Inc., you can expect outstanding results from your landscaping project. We have the right materials for any amenity you need so you can have a truly personalized and one-off landscape setting. We take care of all facets of landscape improvement – design, build, maintenance – so you only need one contractor for your project. We have served a lot of residents in Ann Arbor, Belleville, Canton, Chelsea, Dexter, Dundee, Milan, Plymouth, Saline, Tecumseh and Ypsilanti, MI. Just call (734) 439-3063 for questions on our offered services.


Landscape
Your landscape should be well-designed for it to be absolutely inviting and able to provide all the creature comforts that you need while outside. It must have all the essential landscape elements such as softscape, hardscape, water amenities, and fire features. Your chosen contractor should be able to install all these elements using only topnotch materials and supplies from reliable suppliers. Choose a landscaper who can provide all your needed softscapes like annuals, perennials, shrubs, groundcovers, and trees. He must have the capability to create the perfect hardscapes like decks, sitting/retaining walls, walkway, and patio. Lastly, ask if he can also install stunning water and fire amenities like pools, waterfalls, ponds, fire pits, and outdoor fireplaces.


Landscape Design
A great landscape is professionally designed and has all the amenities and structures that you desire. With a great landscape design, you're assured that no space is wasted and that the outdoor elements perfectly complement your home. Choose a landscape company with skilled and experienced designers. They are ready to listen to your design ideas and translate them into an extraordinary design plan. They will use modern design tools to give you a realistic rendering of your dream outdoors.


Lawn Care
Proper care is a must for your lawn for it to remain healthy and stunning. You must ensure that periodic lawn care tasks are performed regularly by competent people so your lawn will always be at its best condition. Experienced landscaping crews know how to handle lawn care jobs such as mowing, weeding, aeration, leaf removal, trimming and pruning, and similar related tasks.


Landscapers
If you're looking forward to hire the right landscaping company, you must do your homework and look for specific qualities. First, check if they have a valid license since it will tell you that you're dealing with legitimate landscapers. Secondly, see if they have licensed and skilled manpower with expertise in the services they offer. Additionally, ask if they have proper equipment and tools to handle all landscaping-related jobs. Lastly, see if they have competitive rates since you don't want to pay too much for your desired services.


"MORE ARTICLES"
Lawn Care
Paver Installations
Retaining Walls
Tree Services
Snow Removal