Snow Removal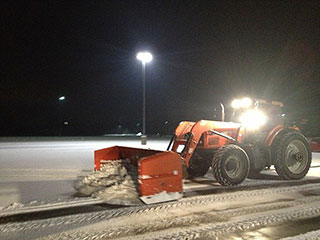 With a competent snow removal company, you can be sure that it will get rid of snow buildup no matter how thick it may be. Professionals have the necessary heavy equipment like snow plows, blowers, de-icing agents, and dump trucks for proper disposal of collected snow. And here at AK Lawn Care, Inc., we have been providing professional snow and ice management services to property owners across Michigan. We have experienced crews, complete tools and equipment, and access to appropriate disposal facilities so you can expect hassle-free snow removal. We have served countless clients across Ann Arbor, Belleville, Canton, Chelsea, Dexter, Dundee, Milan, Plymouth, Saline, Tecumseh, and Ypsilanti, so we know the needs of our local clients. Please don't hesitate to call (734) 439-306 right now so we can address all your concerns and queries.


Snow Plow
Snow plows are one of the most common and critical heavy equipment used to clear properties of snow. But to ensure a successful snow removal project, it's important to use the right type of snow plow. Here are the three types of snow plows and their specific functions and uses:


V-plow. This snow plow type is ideal for snow that is hard-packed. It is also recommended for deep drifts and thick ice buildup. The straight or angled position can be used to stack or do wide path plow while the scoop position is perfect for most cleanups with the least amount of snow spill.


Straight plow. This plow can be used to clear perimeters and buildings of snow. However, care should be taken to ensure that the plow does not go too near such areas to avoid damages.


Containment plow. This can be used to quickly and smoothly divert snow away from structures. This is best used if you want to avoid doing multiple plowing or snow spill since the plow effectively contains the snow. It can be attached to backhoes, tractors, or skid-steer loaders, thereby making it highly versatile.


Snow Removal Services
You should remember these factors when hiring a snow removal company to get the best results:


Types of equipment. The company must have all the basic and heavy equipment used in every snow situation. They should have heavy equipment, as well as hand tools and supplies used to remove snow or prevent ice from forming.


Skilled crews. Licensed and trained crews must be readily available and working in-house for the company. This will give you assurance that only competent people will handle your snow problem.


Competitive pricing. You should not hire a company that charges a fortune for its services; instead, make sure that the company has competitive and reasonable rates for services offered.


Snow Plow Contract
Ideally, you should avail snow plow contract to get access to priority service during times when many property owners are looking for such assistance. You can also enjoy lower cost since periodic snow removal sessions are typically offered at discounted rates. Lastly, you can be sure that you'll have a ready team whenever you need to have snow removed from your property.


"MORE ARTICLES"
Landscaping
Lawn Care
Paver Installations
Retaining Walls
Tree Services