Tree Services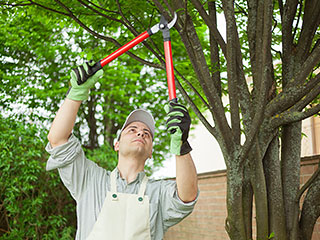 Trees are integral in any landscape or outdoor setup because of the many benefits they offer. One, they provide shade and help keep the air cool wherever they're planted. They also act as windbreakers and absorb harmful carbon dioxide emission. Additionally, trees prevent soil erosion due to loose soil or flooding and heavy rains. But to enjoy such wonderful benefits, trees must be cared for and maintained properly. The best thing to do if you are a property owner is to hire a company offering professional tree services.

Incidentally, AK Lawn Care, Inc. is one the best companies in the Michigan area that homeowners can hire. We specialize in all aspects of tree care and management so you can be sure that we can get the job done and keep your trees in perfect health all-year round. As a full service landscaping company, we have licensed professional crews who are adept at handling all landscape improvement jobs. We have past clients in Ann Arbor, Belleville, Canton, Chelsea, Dexter, Dundee, Milan, Plymouth, Saline, Tecumseh and Ypsilanti, MI who can attest to our skills and expertise in tree services. Call us now at (734) 439-3063 to know more about the services we offer.


Tree Care Services
There are certain things that you must look for if you want to get the best tree care services. First, see if the contractor has lengthy experience doing the jobs that you need help on. They must have dedicated personnel with professional qualifications and unquestionable skills in tree services. You should also check the kind of tools used by the contractor to determine if they can get the job done correctly. Likewise, see if they have complete resources like heavy equipment and tree care supplies as these are critical in carrying out tree maintenance tasks. All these qualities will guarantee you the best kind of tree care assistance possible.


Tree Removal
There are instances where trees must be removed immediately from your backyard. One is when the tree is already dead, decaying, or damaged beyond repair. The tree may have also been growing or is leaning towards a structure and could damage it when it falls. Tree removal may also be the best action if the tree is obstructing your view of your yard or if it is in the way of your planned outdoor improvement. Just don't forget to entrust the removal job to a local company that offers professional tree services. It has the right tools, equipment, and resources.


Tree Trimming & Pruning
Two of the most important tree care tasks are trimming and pruning. Trimming is done to encourage proper growth of the tree while pruning is performed to protect it. Trimming must be carried out at least twice a year by cutting leaves and some branches to let in more light and spur tree growth. Meanwhile, experts recommend pruning trees during spring and winter while some others perform the procedure whenever there are already infected or dead branches.


Stump Grinding
A tree stump can cause tripping accidents or become an eye sore in your backyard. While you can opt to buy a stump grinding machine, it's better to hire professionals to do the job. They know how to remove stumps efficiently. The tree services expert will ensure that proper preparations are made before the actual grinding to ensure that the stump will be removed fast and safely. With the stump gone, accidents can be prevented and the yard will be more presentable.


"MORE ARTICLES"
Landscaping
Lawn Care
Paver Installations
Retaining Walls
Snow Removal