Retaining Walls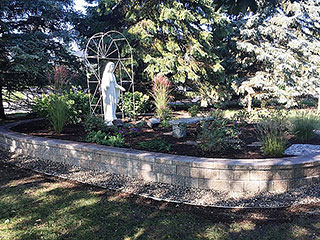 You can have a safer and more appealing outdoors by installing carefully designed retaining walls. These structures serve as effective barriers to eroding soil, particularly in areas with steep slopes. You can also create new spaces that can be used for outdoor living and other purposes. For example, a viewing deck can be installed on a slope with a sturdy retaining wall. For tiered walls, you can add flowering plants to boost the appeal of your outdoor area. There are also some walls that can double as sitting walls. These are commonly installed around fire features, patios, and garden areas.

But before you proceed with your retaining wall installation project, you have to look for well-experienced contractors. Retaining walls are masonry structures that must be handled by properly trained builders. If possible, hire a contractor with SRW certification. This means that the contractor have the required skills and training when it comes to retaining wall installation. Among the local contractors in Michigan that you can rely on is AK Lawn Care, Inc. We have all the qualities you need from a professional retaining wall contractor. We are licensed, certified, and well-experienced in retaining wall design, installation, and maintenance. In fact, we have already built countless walls for our Ann Arbor, Belleville, Canton, Chelsea, and Dexter clients. Most property owners from Dundee, Milan, Plymouth, Saline, Tecumseh, and Ypsilanti, MI also choose us because of our custom-designed walls that are proven sturdy and long-lasting. Please call us at (734) 439-3063 to get more details about our services.


Retaining Wall Blocks
Use only top-quality retaining wall blocks when building your retaining walls. You should get them from reputable suppliers and manufacturers. If you hire a contractor, make sure that he is using top-quality blocks from the best brands. Ask if he can install some of the popular retaining wall systems, which can be installed fast without additional reinforcements.


Concrete Blocks
You can also use concrete blocks for your retaining walls. Concrete masonry units (CMU's) are recommended for taller retaining walls because of their strength and durability. They can resist extreme soil pressure and capable of enduring harsh weather conditions. But you have to let professionals handle this kind of project since concrete block installation requires masonry skills.


Building a Retaining Wall
When building a retaining wall, you have to consider the main function of the structure. Do you install it to improve safety in the area or you want to create more functional spaces? You should also consider the types of materials that will be used on your walls. Do you prefer stone blocks or the segmental concrete blocks?


Retaining Wall Design
Most property owners install retaining walls to improve the aesthetics of their outdoors. Achieving their desired theme or style is easy because most manufacturers offer extensive collection of retaining wall designs. If you want a highly personalized look, opt for a custom retaining wall design.


Block Wall
Do you prefer the natural beauty of stones? Then, choose stone blocks for your retaining walls. You can achieve a natural-looking outdoor environment by using these materials. Just hire experienced people to ensure the structural integrity of your block walls.


"MORE ARTICLES"
Landscaping
Lawn Care
Paver Installations
Tree Services
Snow Removal